Holy Cowgirl!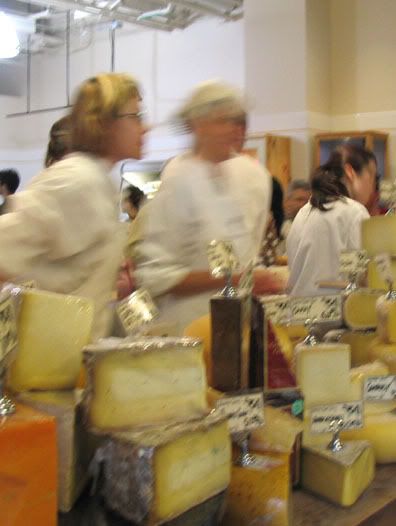 I was in San Francisco this past weekend....
A city brimming with expression, one has to appreciate that all angles are accounted for - Whether it is marching down a major street in leather chaps, or promoting the benefits of organic farming...San Franciscans know how to live. This was particularly evident with a visit to the Ferry Building (a place I like to think of as

home

to the most amazing treasures a foodie can find).
The highlight of the journey....the Cowgirl Creamery shop.
I have lived in Los Angeles for fourteen years and experienced many a' star sighting. I swear nothing compared to the reaction I had when out of the corner of my eye, I saw Sue Conley standing in front of her shop. (For those of you who don't know, she is one of the proprietors of Cowgirl Creamery.) I mustered the courage to say hello....within moments, there was a swarm of camera crewmen and a very-makeuped newcaster who began (spotlight on!) interviewing Sue, and her partner Peggy Smith. At this point, the opportunity for a quick meet-and-greet seemed out of the question. Nevertheless, I was still very excited about checking out the shop...which was fantastic.

Our cheesecutter / salesperson was very down to earth and especially helpful. (Maybe this had something to do with the fact that she was not assisting the man next to us, who seemed intent on sharing his opinions about Manchego with the crowd.) Anyway, she suggested some varieties that were a bit more unusual and out-of-the way. 
After walking around the rest of the shops in the building (mostly all amazing),
I noticed Sue again. Not wanting to miss another good opportunity, I let her know I was a huge fan. No, didn't ask for an autograph...but you can damn-well bet it crossed my mind.