Tickle Me More, Ticklemore!

Ticklemore
Region: British Isles, England
Milk: goat milk

There are times when I am drawn to something so deeply and seemingly without reason that instinctually, I respond by spending hours on Google digging up as much dirt on the matter as time allows.... Ticklemore is no exception. Having quickly become one of my favorite cheeses for its odd shape, its sort of unique, dry consistency and tangy, flowery flavor, I thought it would be interesting to find out more about the company behind the cheese...Neal's Yard (one of the most interesting cheese companies around, in my opinion). The story behind Ticklemore has made my heart grow fonder......
Ticklemore is made by a man named Robin Congden, who lives near Totnes, in Devon, England. (Totnes evidently, was an incredibly wealthy merchant town in the 16th and 17th centuries...and has evolved into a sort of modern-day hippie village.) Robin has been making cheese here since the 1970's, using a French Roquefort (a ewe's milk blue cheese) technique to instead produce a very unique (and vegetarian!) hard goat's milk cheese. Needless to say, Robin Congdon is seen as a bit of a rebel with a very good cause in the cheesemaking community. Further evidence of this....the crazy shape of his cheese is derived from the handmade molds he constructs out of baskets purchased at Woolworth's! The image below...a shapely Norman castle in Totnes, which I would like to imagine was the inspiration.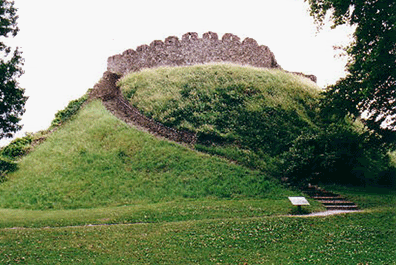 photos courtesy of www.mcgaillard.org
and www.igourmet.com